2019-20 Season Ticket Memberships
ACCESS
Complimentary 18-Person Suite
Perfect for a company outing, a birthday party, or a family outing, enjoy the comfort of a luxury suite to the Marlies home game of your choice*
Complimentary 2019 Round 1 & 2 Playoff Tickets
Pre-Sale Access to Maple Leaf Tickets
Invitations to ALL Members Only Events
Membership Ticket Exchange Program (Never Waste a Ticket!)**
Membership Referral Program
Online Account Manager
VIP Member Entrance & Lounge
Access to the game through your exclusive VIP entrance, and socialize with fellow members in the Member Lounge.
Member Gift
Commemorative Ticket Stock
Membership Card
Reserved Seating in Best Available Locations
Member of the Game Program
Complimentary 18 Person Suite
Perfect for a company outing, a birthday party, or a family outing, enjoy the comfort of a luxury suite to the Marlies home game of your choice*
Membership Ticket Exchange Program (Never Waste a Ticket!)**
Pre-Sale Access to Maple Leaf Tickets
Invitations to ALL Members Only Events
Membership Referral Program
Online Account Manager
Team Merchandise Discounts with Membership Card
Enjoy annual savings of 15% off merchandise at Real Sports apparel by showing your membership card.
Automatic Renewal at the Lowest Package Price
Convenient Monthly Payments
Up to 50% Off Game Day Parking***
Food & Beverage Discount Coupons
TERMS AND CONDITIONS
Complimentary Suite* – Offer valid for accounts with two (2) or more Season Ticket Memberships. Limited number of complimentary suites available per game. Suites are fulfilled on a first-come first-serve basis. Please contact your account representative for more information.
Membership Ticket Exchange Program** – Limited number of ticket swaps available per account per season. Please contact your account representative for more information.
Parking Discounts*** – Save on parking by purchasing a booklet of 34 parking vouchers for an additional cost of $220.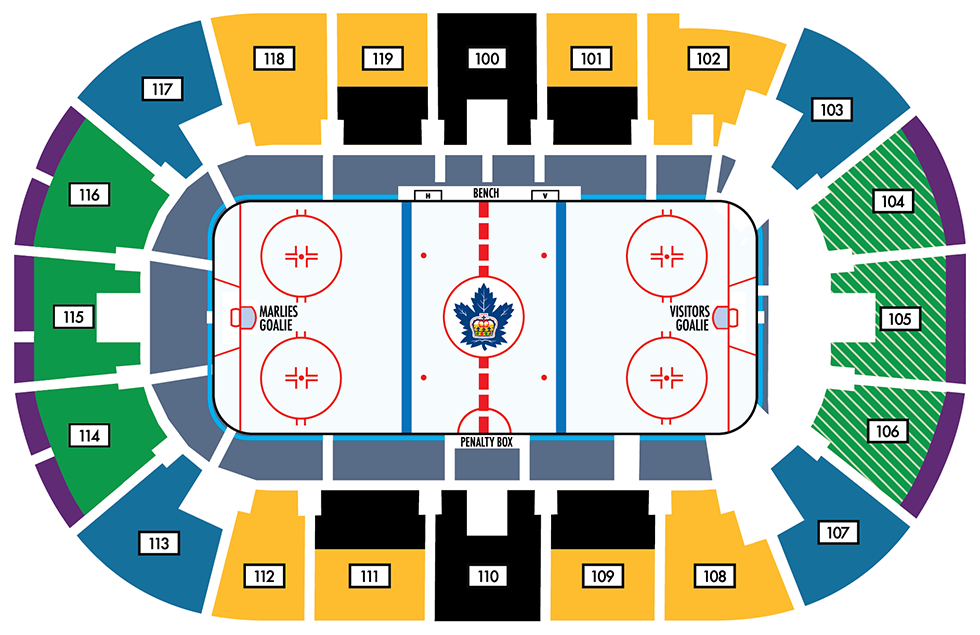 2019-20 Marlies Membership Pricing Chart
| Seat Type | Full Season Price | Monthly* | Annual Savings |
| --- | --- | --- | --- |
| Glass | $1,558 | $109 | $532 |
| Platinum | $1,330 | $93 | $418 |
| Centre | $1,216 | $85 | $342 |
| Sides | $988 | $69 | $380 |
| Goal Line | $836 | $59 | $228 |
| End Zone | $608 | $43 | $114 |
*Initial payment of 23% of total price due upon purchase.
Subsequent payments of 7% of total price are then charged on a monthly basis.
100% of your Full Season Membership, paid via credit card or cheque
at time of purchase.
50% off your Full Season Membership paid at time of purchase
Remaining 50% of Full Season Membership postdated or charged on September 25, 2019
Your Full Season Membership paid monthly beginning at time of purchase.
Payment is applied on the 25th of each month, or next business day.
Payments that are missed will be re-applied the following month in order to keep your membership in good standing.  Initial payment equals 23% of total membership, followed by 11 equal monthly payments of 7%.
2020 Calder Cup Playoffs
Your 2019-20 Marlies Membership includes complimentary tickets to Rounds 1 & 2 (if applicable) to the 2020 Calder Cup Playoffs, as well as access to your seats at your Membership rate for Rounds 3 & 4 (if applicable).
FEBRUARY 26
Deposit Seat Selection Day
FEBRUARY 27
Memberships On-Sale
MARCH 4
Early Bird Price Deadline
APRIL 14
Deadline to receive Complimentary Round 1 Playoff Tickets
APRIL 15
Round 1 Opponent & Schedule Determined (if applicable)
What is Membership?
Your Membership provides you with exclusive opportunities that will give you, our most vested fans, a distinct sense of community and a meaningful connection with the team year-round. Special perks include unprecedented access to events & facilities, members-only privileges, and all-encompassing experiences that go beyond the game.
What Does Autorenewal Mean?
Autorenewal is a fast and convenient way to maintain your membership. When you obtain a Membership, you are automatically enrolled in our auto-renewal program. You will still receive an invoice before your membership automatically rolls over in March, each successive year.
How Much Have I Paid Towards My Membership and How Much Is Still Due?
Please reach out to a Membership Specialist at 416-597-PUCK (7825) who can provide you with your payment history and your remaining balance. If you'd like to pay off your membership sooner, our Membership Specialists can help adjust your payment plan.
What Games Do I Get as Part Of My Plan?
Members will have access to all regular season home games played at Coca-Cola Coliseum and Scotiabank Arena, plus complimentary tickets for 2019-20 home Round 1 & 2 playoff games at Coca-Cola Coliseum.
How Do I Use Account Manager?
Please view our Account Manager Guide for more information on printing, transferring, exchanging and donating tickets within Account Manager.
How Do I Get My Parking Pass?
Parking passes are sold as a booklet of 34 discounted vouchers for $220. For ease and convenience, an optional invoice will be delivered to you prior to the start of the 2019-20 season. Should you not wish to purchase parking, please disregard this invoice.
How Can I Contact The Membership Team?