Kapanen thriving with Marlies, focused on raising game to new heights
Kasperi Kapanen's hockey career has, thus far, seen him play more than 100 American League games and 20 NHL regular-season games, 30 AHL playoff games and six NHL playoff games, and score the gold-medal-winning goal for his native Finland at the 2016 IIHF World Junior Championship.
And he's only 21 years old.
With Kapanen being on the Toronto sports scene since July of 2015 – his arrival to the Maple Leafs organization coming as part of a multiplayer trade with Pittsburgh that sent winger Phil Kessel to the Penguins – it's easy to forget the wealth of high-stakes experience he's had already. Certainly, Kapanen's current head coach – Sheldon Keefe of the Toronto Marlies – always tries to keep the youngster's age in mind when he's gauging his progress.
"We've had this talk as a (coaching) staff recently – you forget how young Kasperi Kapanen is," Keefe said in late November after a Marlies practice. "You look at a guy like (2016 Leafs draft pick) Adam Brooks, who's coming out of a dominant junior year and is trying to transition into (the AHL) – well, he and Kapanen are the same age. And Kappy's a dominant player at our level and is in his third year with us. So he's got some great experience, and that's why he's an NHL player that's ready to go whenever the opportunity presents itself."
If that sounds like strong praise coming from a coach, that's because it is – and Kapanen has earned it. This current season is the third Keefe will have coached Kapanen, and the son of former NHLer Sami Kapanen has had his challenges before rising to the level he's at, but Keefe has watched Kasperi grow and improve in leaps and bounds. Kapanen has six goals and nine points in 12 games with the Marlies this season, and he's spent three games with the Leafs in late October and early November – a span in which head coach Mike Babcock increased his ice time with every subsequent game.
As a former NHLer, Keefe can empathize with where the 21-year-old forward is at today: a place where he feels ready for an NHL job, but due to the Leafs' impressive depth, he isn't playing in hockey's top league just yet. That's never going to be a sweet pill for players to swallow, but Keefe is encouraged by the many ways Kapanen has strived to push himself.
"He's a lot stronger here now," Keefe said of Kapanen, who measured in at 6-foot-1 and 187 pounds to start the year. "You can see it in his body, just see the way he's matured. For a guy like him that's had the taste of being in the NHL, he's right there. He's done well when he's been there. He's played in big hockey games. So he has to fight that every day, in terms of continuing to push himself and challenge himself to be great here, and that's hard for a young player."
But even if Kapanen isn't with the Leafs on a full-time basis at the moment, he's demonstrated enough speed and skill to have teammates and coaches talking assuredly about his future as an NHLer.
"He's going to play in the NHL – it's just a matter of when," said Leafs centre Nazem Kadri. "He's probably one of the fastest guys I've ever played with or against, and he's got exceptional skill as well. With that combination of both, he's going to end up being a pretty good player."
"He's fast, but his strength has come a long way, especially in this off-season," added winger Connor Brown, who played alongside Kapanen with the Marlies in 2015-16. "He's going to be a good player in this league for a long time."
"He's a kid who's going to be an NHL player," added Babcock. "At what level, I don't know for sure, but an NHL player for sure. (He's an) energy guy who can get on the forecheck and play with speed. He's improved his body a lot. I think he has a chance to be a good player. He's going to be in the end, like (Leafs winger Nikita Soshnikov) and all these guys, (in that) you've got to find a way to take someone's (NHL) job. And whether that be this year or whether that be next year, that's what's ahead of all these guys."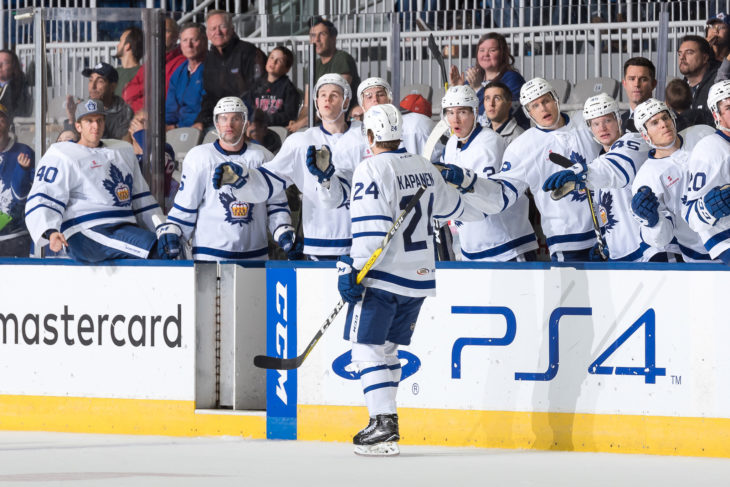 You'll note that all the praise for Kapanen includes a reference to his speed. The native of Kuopio, Finland can accelerate as quickly as virtually anyone in the sport; that explosiveness is a major asset in an NHL era that prioritizes players who can win footraces to pucks and take time and space away from opponents. He also can make slick passes when he's got the jets turned on, and his soft hands have resulted in him generating goals at all levels. Indeed, in his first taste of NHL playoff action last spring, Kapanen scored two goals in six games against the Washington Capitals, and he posted 18 goals in 43 games with the Marlies in the 2016-17 campaign.
Trying to crack a deep Leafs team where competition for jobs abounds, Kapanen understands he's got to utilize his best assets to stay in the NHL for the long term. His swiftness is one of them.
"I think he's understood in the NHL game how much of a disruption he can be with his speed," Leafs defenceman Connor Carrick said of Kapanen. "A guy that's similar to the way he can disrupt a game would be a guy like (Connor Brown) – both kind of slinkier build, very fast, good first couple strides. With their speed, they're able to surprise people and close really quickly. And obviously, Kappy's had great offensive instinct his whole career. He should be a really good NHLer, and he's showed that during his opportunities here."
As someone whose father familiarized him with the rigours and pressures of a life playing professional hockey, Kapanen values his time away from the rink and decompresses as much as possible when he's home. This year, he's living with his best friend from Finland, and though he still talks to Sami Kapanen frequently, Kasperi's dad has his own responsibilities coaching a pro team in Finland, so Kasperi is a little more on his own.
In the grand scheme of things, small steps forward, professionally and personally, is what Kapanen has been going through this year. And according to both head coaches he's dealt with, he's handled it admirably, even when he's disappointed not to stay at the NHL level.
"The day you send them down (to the AHL), they don't hear anything except 'I'm going down', so then what you do is you talk to them a week later when they're regrouped and you explain the situation," Babcock said of players in general. "But they know. They've been here a while, they know what the message is, and they know what they've got to do."
"We try to deal with each situation as it comes – in Kappy's case, we gave him some breathing room when he came back down here this most recent time," added Keefe. "In previous occasions, you spend time and you talk with him about it. I've been in that position as a player, and I think (Babcock) is correct in that you hear you're going down and that's about it. You're unhappy about that, especially when it's going well, when you've been up there and you're not initially expecting it, or you feel like you belong.
"I think Kappy's in that situation here now, and he's transitioning back to playing every day and being a part of this programme. We want to continue to work with him as a staff. We're in this with him. We want to keep maximizing his time here and make sure he continues to be ready."
Kapanen values his time with Keefe, whom he called a good teacher and someone who can relate to players.
"He's a really smart coach and he knows what he's talking about," Kapanen said of Keefe. "This is my third year with him and I feel like he's getting more comfortable with me after every game. So I enjoy that and he gives me a lot of responsibility, but he knows I can handle it. He lets me know if I do something wrong, but if I do something right, he lets me know as well. So that's a good quality to have in a coach."
Injuries, trades and unforeseen circumstances can lead to an NHL opportunity presenting itself at any time. Kapanen's job is to be prepared for that chance, to take advantage of it, and to settle in to a long and productive career with thankfulness for what he learned at the minor pro level. And his determination to put forth the same energy and focus regardless of whether he's wearing a Leafs or Marlies jersey bodes well for him as an individual and for the franchise that employs him.
"No matter where you're playing or who you're playing with, you should approach the game the same way," Brown said. "That's important, consistency of play. And that's something he has."