Marlies Finish Off Phantoms With Sweep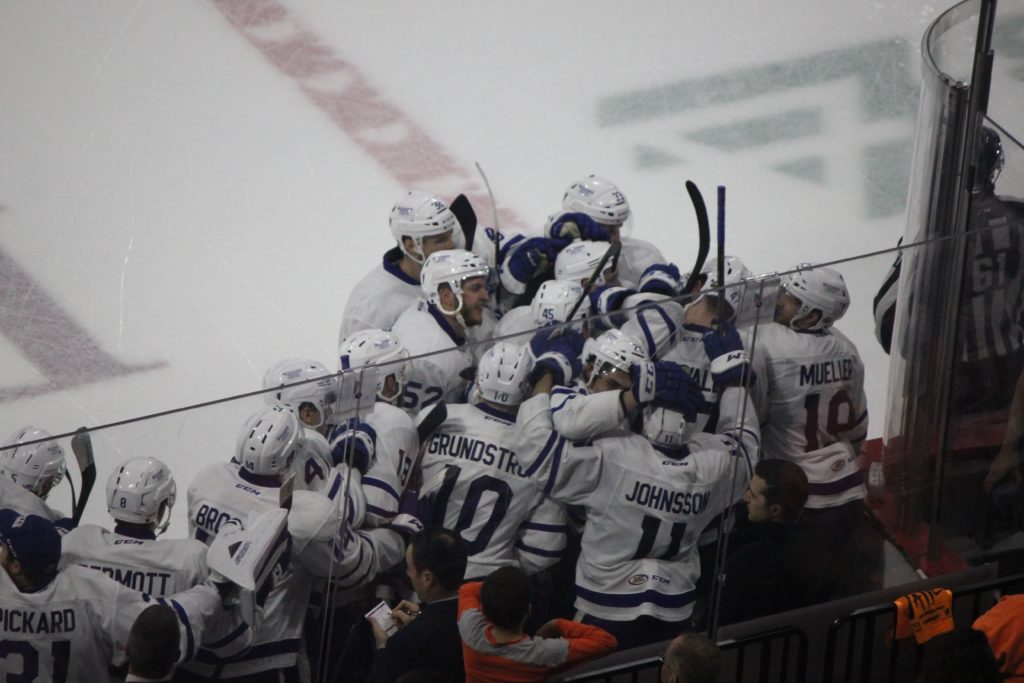 Game Recap
The Toronto Marlies completed a third round sweep of the Lehigh Valley Phantoms to punch their ticket to the Calder Cup Finals for the second time in franchise history.
In a tight-checking, fast, back-and-forth game, the Marlies won a second straight game inside the unfriendly confines of the PPL Center, home of the regular season's best home team.
After a scoreless opening period, Andreas Johnsson put the Marlies on the board first, connecting on a one-timer to convert on a two-man advantage from the side of the net. Calle Rosen and Chris Mueller had the helpers on Johnsson's fifth of the postseason less than two and a half minutes into the middle frame.
Travis Sanheim had the response for the Phantoms just over ten minutes later, as he put a rebound away on a Lehigh Valley power play.
The two sides remained deadlocked heading into the third until Johnsson scored his second of the game. Taking the puck in the corner, he spun away from his defender and put a quick shot through the five hole. Miro Aaltonen and Carl Grundstrom earned the assists.
Trevor Moore would add an empty net goal to seal the victory and send the Marlies through to the finals.
Garret Sparks turned in another spectacular effort, making 19 saves. He finishes the Eastern Conference Finals with 96 saves on 102 shots.
The Marlies will now await the winner of the Western Conference Finals where the Texas Stars lead the Rockford IceHogs 3-2.
Game 1 of the Finals will go Saturday, June 2 at Ricoh Coliseum.
Game Notes
GAME SUMMARY    |    GAME SHEET
SCORING SUMMARY
Toronto: A. Johnsson (5) PP (C. Mueller, C. Rosen), A. Johnsson (6) (M. Aaltonen, C. Grundström), T. Moore (4) EN (F. Gauthier)
Goaltender: G. Sparks (19/20)
Lehigh Valley: T. Sanheim (1) PP (C. McDonald, P. Varone)
Goaltender: A. Lyon (26/28)
FROM THE SCORESHEET
Andreas Johnsson opened the scoring at 2:24 of the second period on the power play and scored his second of the night and the game-winner at 3:27 of the third period. Johnsson has 15 points (6 goals, 9 assists) through nine games this postseason is tied for second in points in the AHL. This is Johnsson's third power play goal.
Trevor Moore scored the empty net goal at 19:18 of the third period. Moore has 13 points (4 goals, 9 assists) through 13 games this postseason.
Chris Mueller recorded the primary assist on Johnsson's second period power play goal. Mueller leads the Marlies with seven power play points (1 goal, 6 assists) through 13 games this postseason.
Calle Rosen registered the secondary assist on Johnsson's second period power play goal. Rosen has five points (1 goal, 4 assists) through nine games this postseason.
Miro Aaltonen had the primary assist on Johnsson's third period goal. Aaltonen has 10 points (4 goals, 6 assists) through 13 games this postseason.
Carl Grundström recorded the secondary assist on Johnsson's third period goal. Grundström has 10 poitns (6 goals, 4 assists) through 13 games this postseason.
Frederik Gauthier had the lone assist on Moore's empty net goal. Gauthier has eight points (1 goal, 7 assists) through 13 games this postseason.
Garret Sparks stopped 19 of 20 shots he faced against the Lehigh Valley Phantoms. Sparks is now 10-2 in the playoffs with a .926 Save Percentage and a 1.96 Goals Against Average.
NOTABLES
With today's win over Lehigh Valley, Toronto advances to the Calder Cup Finals where they will face either the Rockford IceHogs or the Texas Stars. This is the second time in franchise history the Marlies have advanced to the Calder Cup Finals.
The Marlies are currently on a nine game-winning streak, having swept both the North Division and Eastern Conference Finals.
Toronto outscored Lehigh Valley 15-6 to sweep the Eastern Conference Finals.
Toronto went 1-for-2 on the penalty kill and 1-for-4 on the power play. Through four games, Toronto went 7-for-10 on the penalty kill and 5-for-16 on the power play.
Toronto had a 29-20 edge in shots in all situations. Through four games, Toronto outshot Lehigh Valley 142-102 in all situations.
Andreas Johnsson led the Marlies with four shots on goal.
PLAYOFF LEADERS
Goals: C. Grundström, A. Johnsson (6)
Assists: A. Johnsson, T. Moore (9)
Points: A. Johnsson (15)
PPG: D. Timashov (4)
Shots: C. Greening (42)
+/-: V. LoVerde (+12)
PIMS: T. Dermott (18)
POSTGAME QUOTES
HEAD COACH SHELDON KEEFE
On if Toronto had a good start:
We knew they were going to come here and give a real hard push tonight. That's a proud team, it's a very good team that's here for a reason but I did like our start. We missed a glorious chance to score in the first minute of the game. You know, they came and they were real physical which I thought worked to our advantage. We were able to use some of that physicality against them and move the puck behind them and we got some odd-man rush opportunities and left our zone pretty good. That team played real hard today. They really pushed us and we didn't break. Our guys pushed back, our guys continued to play. There were portions of the second period where we'd like to change some things but with the exception of that, I thought our guys were excellent again today and had all sorts of opportunities that just didn't fall for us today. We just continued to defend very well so really proud of our group today and the effort that they gave us and you know, through the playoffs but certainly through this series against a very good team.
On whether relentless describes the Marlies:
We hope that's the case. We want to just continue to come. We've really developed into four lines here and that's a credit to the development of Adam Brooks and Mason Marchment and the steps that Trevor Moore has taken in the last few months here that's allowed us to be a four-line team that can really control things. That was going to be a real key in this series here. They had a lot of depth as well, more depth than what we saw from a beaten-up Syracuse team with injuries and what-have-you and the fact that the Lightning were still playing. But this was a deep team and we were going to need all four lines and our guys came through very well for us.
On going to the Finals:
Everyone's happy. Whether you're someone that's just gotten here or someone who's been here for a while like myself you finally get over that hump and you feel something special brewing around here even just to get to the Finals is just a heck of an accomplishment. We really only play the Eastern Conference teams so that's really our league if you will. To get through it the way that we have here and the way that our team has come together, I'm really proud of it. We're going to take the night to enjoy it and have fun. That's the best part of playing this long, just to stay together as a group and have fun together and once we figure out who we're playing against, we'll get to work to finish this thing off but we certainly know the challenge continues to get greater as you move forward. We're going to make sure that we're going to take the time to enjoy this one. Our players have earned that.
COLIN GREENING
On the Eastern Conference Finals:
Well I think first of all it starts from the goalie out. I thought Sparks had a phenomenal series, he continued his strong play. Then we had six strong D that gave us a lot of depth on the back end. As the series went on, I felt like we had good legs and I think what I consider to be a big momentum shift for us was winning Game 3, especially in their home barn. If you look at the record, they were one of the best home record teams in the entire regular season, so I think that gave us a lot of confidence. Glad that kind of spilled over into Game 4.
On his line setting the stage:
I think every line has been doing that. I know that's part of our line's goal is to fatigue the other team if we can, but I don't think that's any different than any other line, whether it's Grundstrom's line or Brooks' line. I think Brooks' line was phenomenal this entire series and I think that's a testament to the depth we have on our team. So, I don't think necessarily it's just our line, but all four.
BEN SMITH
On the team being made up of leaders:
It's been that way I think throughout the playoffs. Getting Dermy and Johnny back here, they just elevate our team. We kind of follow their lead. Their two guys that just play a lot of minutes. Johnny just took over the game today and found a way to score that big goal.
On how the team got better through the series:
Those two wins at home were huge – that overtime win and coming in the other night and finding a way to really play a strong game throughout. Going up 3-0 is always tough so we're a tough team when we're playing like that, staying above, we've got six all D-men and 12 good forwards, two good goalies and we're excited to get to the Finals.
NEXT GAME:
June 2 vs TBD – 4:00 p.m. ET
June 3 vs TBD – 4:00 p.m. ET
Game Preview
The Toronto Marlies have a chance to punch their ticket to the Calder Cup Finals on Friday night when they face the Lehigh Valley Phantoms in Game 4 of their conference finals series.
The Marlies enter Friday's game holding a 3-0 series lead after winning 5-0 on the road on Wednesday. Toronto has now won eight consecutive games, stretching back to Game 5 of their first-round series against Utica.
Andreas Johnsson continued his scoring ways on Wednesday, notching a tally and adding an assist to give him 13 points (4G, 9A) in eight games during the postseason. Carl Grundstrom took sole control of the team's goal scoring lead with the opening goal, which held up as the game winner, and has now found the back of the net six times.
Ben Smith scored a pair of goals in that game and enters play tonight riding a three-game scoring streak and five-game point streak. Smith has scored four times this series and has five goals and 11 points total.
The Phantoms were held off the scoresheet on Wednesday but will be determined playing in front of the home crowd again tonight. They finished the regular season with the best home record in the American Hockey League, losing in regulation just six times.
Chris Conner leads Lehigh Valley in scoring this postseason with five goals and four assists.
Puck drop for tonight's game is scheduled for 7:05 PM and fans can tune in on Leafs Nation Network, TSN-2, NHL Network, TSN 1050 Radio and AHL Live.
Follow us on Twitter for pre- and post-game coverage, as well as live updates from PPL Center.
Head to Head (2018 Playoffs)

| | | |
| --- | --- | --- |
| | | |
| 10-2-0 | Overall Record | 7-4-1 |
| 3-0 | Series Record | 0-3 |
| Win 8 | Streak | Loss 3 |
| 45 | Goals For | 33 |
| 26 | Goals Against | 33 |
| 23.3% | Power Play Percentage | 20.5% |
| 82.5% | Penalty Kill Percentage | 75.0% |
| C. Grundstrom (6) | Leading Goal Scorer | C. Conner (5) |
| A. Johnsson (13) | Leading Points Scorer | C. Conner (9) |
| G. Sparks (9) | Wins Leader | A. Lyon (6) |