Agostino Scores Overtime Winner Against Laval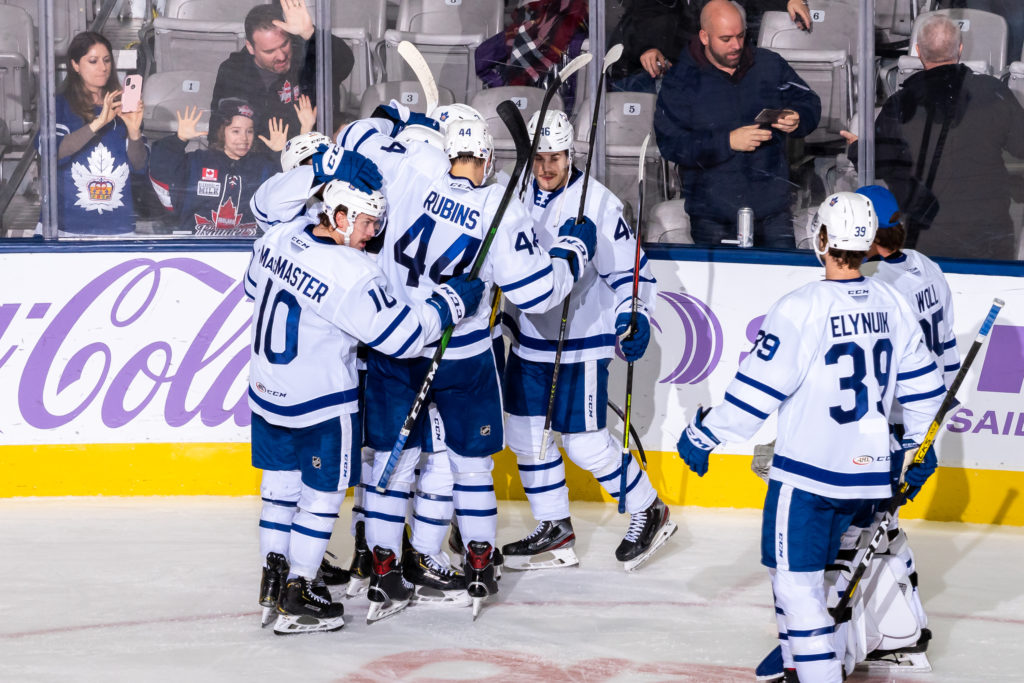 Game Recap:
The Toronto Marlies kept their home win-streak alive Wednesday night, edging the Laval Rocket 2-1 in overtime.
Laval opened the scoring midway through the first period and peppered Marlies' goaltender, Michael Hutchinson with 11 shots on goal in the opening frame.
Scott Pooley got the Marlies on the board at 3:03 of the second period to tie the score up 1-1. Pooley scored his first goal in his first game for the Marlies this season, wiring home a one-timer from the hashmarks from Tanner MacMaster and Ben Harpur.  The score remained locked 1-1 after 40 minutes of play.
The Marlies saw their first power play opportunity at 7:25 of the third period, but were unable to capitalize on the man-advantage. 3-on-3 sudden death overtime would be necessary with the score still tied at the end of regulation.
Kenny Agostino provided the overtime heroics with only 25 seconds left in extra time to lift the Marlies to a 2-1 victory and extend their home win streak to seven straight.
Toronto will be back in action this weekend to host the Manitoba Moose in back-to-back games at Coca-Cola Coliseum.
Game Notes:
GAME SUMMARY    |    GAME SHEET |    PHOTOS    |      SCRUMS
SCORING SUMMARY

Laval: M. Peca (2) (D. Sklenicka)
Goaltender: C. Lindgren (19/21)
Toronto: S. Pooley (1) (T. MacMaster, B. Harpur), K. Agostino (9) (T. Liljegren, J. Bracco)
Goaltender: M. Hutchinson (32/33)
ON THE SCORESHEET
Scott Pooley scored at 3:03 of the second period. This is his first goal for the Marlies in his first game this season. Pooley has 13 points (10 goals, 3 assists) through 12 games with Newfoundland (ECHL).
Kenny Agostino scored the overtime winning goal at 4:35 of extra time. He now leads the Marlies in goals (9). Agostino has six points (5 goals, 1 assist) in four games.
Tanner MacMaster recorded the primary assist on Pooley's second period goal. MacMaster has four points (1-3-4) in four consecutive games.
Ben Harpur registered the secondary assist on Pooley's second period goal. Harpur has four assists through 13 games this season.
Timothy Liljegren picked up the primary assist on Agostino's overtime goal. Liljegren has nine points (1 goal, 8 assists) through 14 games.
Jeremy Bracco had the secondary assist on Agostino's overtime goal. Bracco leads the Marlies in assists (12). Bracco has four assists in three games.
Michael Hutchinson stopped 32 of 33 shots he faced. Hutchinson is now 2-0-0-0 on the season with a 0.943 save percentage and a 1.93 goals against average.
OF NOTE…
Toronto is undefeated at home this season. This is the most consecutive wins (7) at home since 2016-17. Toronto has outscored their opponents 30-17.
Assistant coaches Rob Davison and A.J. MacLean assumed duties behind the bench for tonight's game against the Laval Rocket.
Sheldon Keefe finished his Marlies coaching career with a record of 199-89-22-9 (0.672) and was 15 games into his fifth season. He led Toronto to their first Calder Cup championship in 2018 and advanced to the Eastern Conference Finals twice. He also won the Macgregor Kilpatrick Trophy twice as the regular season champions.
Toronto was 3-for-3 on the penalty kill and was 0-for-1 on the power play.
Laval had a 33-21 edge in shots in all situations. Pontus Aberg and Kenny Agostino led the Marlies with three shots on goal.
The Marlies are 5-0-2-1 against North Division opponents and are 1-0-0-1 against the Rocket. This is the second of eight games this season against Laval this season.
REGULAR SEASON LEADERS
Goals: K. Agostino (9)
Assists: J. Bracco (12)
Points: P. Aberg 16)
PPG: E. Korshkov (4)
Shots: P. Aberg (52)
+/-:  B. Harpur (+10)
PIMS: G. Wilson (41)
RECORD WHEN…
The Marlies are 3-0-1-0 when trailing after the first period and 3-1-0-1 when tied after the second period.
Toronto is 5-2-1-1 when outshot by their opponent.
The Marlies are 2-1-0-0 in Wednesday games and are 5-2-0-1 in November.
CURRENT POINT STREAKS
Tanner MacMaster has points (1-3-4) in four consecutive games.
MARLIES UPDATES.
Darren Archibald (forearm strain) did not dress for tonight's game against Laval. He has not dressed since November 6 against Rockford.
Kevin Gravel (illness) did not dress for tonight's game against Laval.
Rasmus Sandin (rib contusion) did not dress for tonight's game against Laval. He left Toronto's game midway through the second period against Texas on November 16.
RECENT TRANSACTIONS
November 18: Recalled forward Pierre Engvall from loan by Toronto (NHL).
November 15: Recalled forward Scott Pooley from loan to Newfoundland (ECHL).
November 15: Reassigned defenceman Joseph Duszak by Toronto (NHL) to Newfoundland (ECHL).
POSTGAME QUOTES
ASSISTANT COACH A.J. MacLEAN
On the emotions around the team with the announcement of Sheldon Keefe as head coach of the Maple Leafs:
For me personally, (Sheldon) means everything, to my career. Along with my father and Kyle Dubas, they're the people who've really groomed me to be where I am. Once I got done playing they took a chance on me in the Soo and every step of the way he's been an incredible mentor and basically a big brother to me through life and through coaching. For here with the development of all the Marlies, he's been absolutely incredible. He genuinely cares about every player that's come through here. He puts a lot of time and effort in to make sure that each and every player has an opportunity to reach their maximum potential, and that's our day-in and day-out process, is to try and get the players to their potential.
On if he spoke with Keefe following the announcement:
Briefly, just as a group (chat) we have, not one-on-one. But we got to talk to him a bit when the news came to us and we wished him all the best and told him how proud we are of him. We're looking forward to watching him go.
On the benefits of giving personal attention to each player:
I think you just know if somebody cares about you, you go through a wall for them, and that's what you see almost all the time here with the Marlies. The guys go through the wall for him. They really want to get better because us as a staff really want to see every player reach their potential and it all starts with him.
JEREMY BRACCO (1 ASSIST)
On Sheldon Keefe's style of communication:
I think you know where you stand. I think you know where you are in the lineup, you know what you need to do, you know what you need to do to contribute to play a lot and he expects you to be better in the areas that you're not so good at. He's very easy to talk to about life, not even hockey. I've gone to him about multiple different things and he's been there, open door policy, and I think that's something they'll appreciate up there.
ADAM BROOKS
On today's win against Laval:
I mean obviously we knew that today was a crazy day and we knew going into this game that we didn't want to use it as an excuse. We still have a great leadership group in there and we're still led by two great coaches. We knew what we needed to do heading into this one and thanks to Kenny and a great play by Hutch, we were able to come out of there with the win.
On what Sheldon Keefe meant to his development:
He was huge. I was very fortunate to play under Sheldon for parts of three years now. When I came into the league it was a huge adjustment for me, probably a little harder than I thought it was going to be and he was there the whole way. He's a great coach, he always tells you exactly what he wants from you and when he sees that your game's not going the way he wants it to be, he straightens it out and shows you the things that you're doing wrong. I can't thank him enough for everything he's done for us and the development that he's done for so many guys that you've seen made that jump to the NHL. With a few more going this year already, it just shows what kind of coach that Sheldon Keefe is.

NEXT GAME:

November 23 vs Manitoba – 4:00 p.m. ET
November 24 vs Manitoba – 4:00 p.m. ET
November 29 at Rochester – 7:05 p.m. ET
November 30 vs Utica – 1:30 p.m. ET (Scotiabank Arena)
December 1 vs Utica – 4:00 p.m. ET
Game Preview:
The Marlies and Rocket meet tonight for their second of eight meetings during the 2019-20 regular season.
The Marlies returned from their annual Royal Road Trip last weekend and kept their home winning-streak alive with back-to-back wins over the visiting Texas Stars. The Marlies have now won six straight on home ice and sit in first place in the North Division and second place in the Eastern Conference. When asked about the team's success on home ice, Marlies head coach Sheldon Keefe commented "no matter where we are, we have to pick up points. We've had a good start to the season here for sure, but you look around in the division and there's a lot of really good hockey teams in our division, and they're not all going to make the playoffs. So, it's going to be a battle all the way through."
That comes in to play tonight in an important divisional matchup against Laval. With only one point separating these two teams in the North Division standings (although, the Marlies have three games in hand), both teams will be looking to come away with a crucial two points. In their previous meeting this season, the Rocket edged the Marlies 6-5 in a shootout in Laval to take a 1-0 lead in the season series. Since then, the Rocket have picked up three wins to improve to 10-6-2-0 on the season. Laval sits third in the North Division and sixth in the Eastern Conference, and they continue to boast one of the league's top penalty kills (92%).
The Marlies were 7-2-1-0 against the Rocket last season and are 9-2-0-0 over the last five years when visiting Laval.
Puck drops at 7:00 PM on Leafs Nation Network. Fans across Canada can also stream the game live in the Official Maple Leafs App.
Head to Head (2019-20 Regular Season)

10-2-2-1
Overall Record
10-6-2-0
0-0-0-1
Head To Head
1-0-0-0
3-0-0-0
Streak
1-0-0-0
59
Goals For
51
44
Goals Against
47
21.8%
Power Play Percentage
19%
78.1%
Penalty Kill Percentage
92%
P. Aberg (8)
Leading Goal Scorer
A. Belzile (6)
L. Vejdemo (6)
P. Aberg (16)
Leading Points Scorer
A. Belzile (12)
L. Vejdemo (12)
K. Kaskisuo (5)
Wins Leader
C. Primeau (6)