Hard-Fought Effort At Home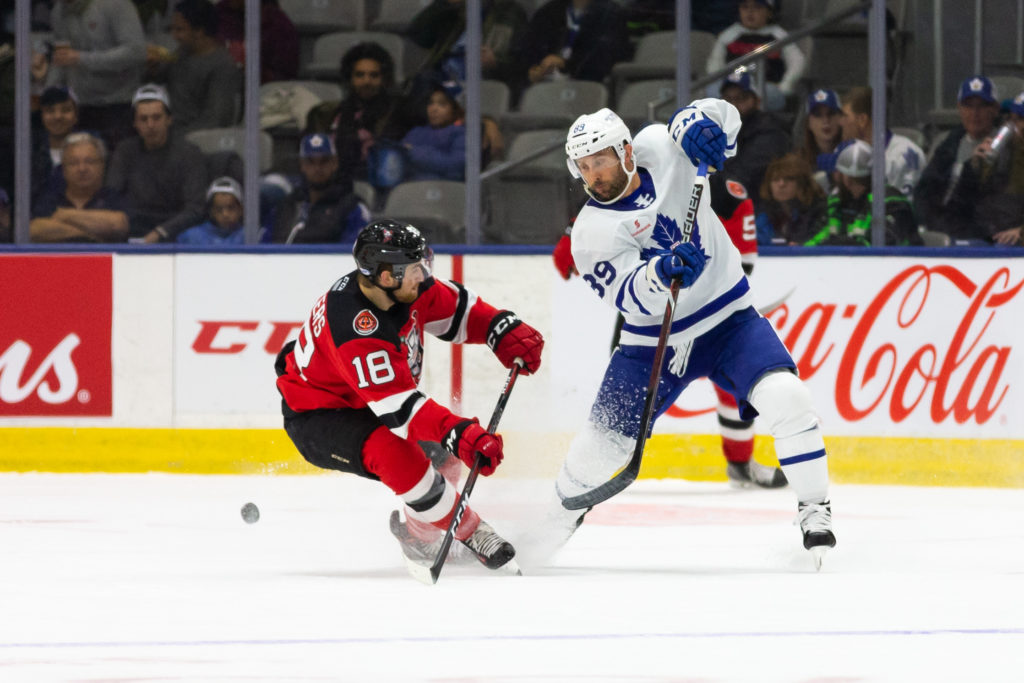 Game Recap
The Toronto Marlies put in a strong showing in their return home Saturday night but it wasn't enough as they fell 2-1 to the Devils in the first of back-to-back games against Binghamton.
The Marlies controlled play for much of the game and nearly doubled up Binghamton in shots, but Mackenzie Blackwood's performance between the pipes kept the Marlies to just one goal.
Binghamton opened the scoring 8:16 into the game off a goal by Blake Pietila and that would hold up as the only goal of the game until there was 1:09 left in the second and Nick Lappin scored to make it 2-0.
Just past the midway mark of the third, Sam Gagner cut the deficit in half with a blast from the high slot. Dmytro Timashov and Calle Rosen had the assists but that would prove to be the only marker for the Marlies tonight.
Kasimir Kaskisuo made 23 stops in the start for the Marlies while Blackwood had 42 for Binghamton.
With the result, the Marlies move to 5-7-1-2 while Binghamton improve to 8-7-2-0. The two sides face off again tomorrow at Scoriabank Arena.
Game Notes
SCORING SUMMARY
Binghamton: B. Pietila (4) PP (C. White, B. Gignac), N. Lappin (9) (Unassisted)
Goaltender: M. Blackwood (42/43)
Toronto: S. Gagner (7) PP (D. Timashov, C. Rosen)
Goaltender: K. Kaskisuo (23/25)
ON THE SCORESHEET
Sam Gagner scored on the power play at 11:38 of the third period. This is Gagner's fourth power play goal of the season. Gagner has 15 points (7 goals, 8 assists) through 15 games this season.
Dmytro Timashov recorded the primary assist on Gagner's power play goal in the third period. Timashov has five points (1 goal, 4 assists) on the power play this season.
Calle Rosen registered the secondary assist on Gagner's power play goal in the third period. Rosen leads the Marlies in assists (12).
Kasimir Kaskisuo stopped 23 of 25 shots he faced. Kaskisuo is now 1-3-0-0 on the season with a .871 Save Percentage and a 4.49 Goals Against Average.
NOTABLES
Toronto went 2-for-3 on the penalty kill and 1-for-7 on the power play.
Toronto had a 43-25 edge in shots in all situations. This is a season-high for shots on net for Toronto.
Calle Rosen led the Marlies with seven shots on goal.
The Marlies are 4-7-1-2 against North Division opponents and are 0-2-0-0 against the Binghamton Devils this season.
REGULAR SEASON LEADERS
Goals: T. Moore (9)
Assists: C. Rosen (12)
Points: C. Mueller (16)
PPG: S. Gagner (4)
Shots: S. Gagner (53)
+/-: C. Grundstrom, C. Rosen (+6)
PIMS: M. Marchment, D. Timashov (14)
POSTGAME QUOTES
HEAD COACH SHELDON KEEFE
On tonight's game:
I feel like we played much better, much better effort tonight, for sure. If we play like that, we're going to win a lot of games. It's just unlucky for us, it's the way things are going here. You know, we deserve more offence, some we got today, the goaltending was very good obviously. We played well enough defensively and in other areas of the game to get a win today but it's a fine line obviously between winning and losing. We made a couple mistakes that ended up in our net and you know when they made mistakes we didn't capitalize and make them pay. That's the difference between winning and losing but in terms of the process, in terms of how we play and in terms of how our guys worked here in a back-to-back against a rested team, the way that we got better as the game went on, a lot of positive signs about our team. (It) would have been nice to see us get a reward here today but nobody just gives it to you, we've got to continue to work for it and we'll get a chance to do it tomorrow.
On the team's perseverance throughout the game:
Our team cares, our guys want to get a win. They want to turn this around, they want to get on the right side of games. It's a good sign for our team with how things have been going, it'd be easy for guys to kind of shut it down and "woe is me" and all that kind of stuff, I thought we pushed hard. Third period was good, we got a real strong push in the first half of the period to try and get one and it just didn't fall for us. Like I said, we played a good game and if we play like that we we're going to win most games.
NEXT GAME:
November 18 vs Binghamton – 4:00 p.m. ET (Scotiabank Arena)
November 23 at Cleveland – 7:00 p.m. ET
November 25 vs Cleveland – 4:00 p.m. ET
November 28 at Cleveland – 7:00 p.m. ET
December 1 vs WB/Scranton – 4:00 p.m. ET
Game Preview
The Toronto Marlies (5-6-1-2) are hitting home ice Saturday night after a lengthy five-game road trip over the past two weeks. Over the trip, the Marlies earned point in three games, going 1-2-1-1 in that time.
Celebrating Complete Country Night, Saturday's matchup marks the first trip to Toronto for the visiting Binghamton Devils this season. The Devils come into play after dropping a 5-2 decision in Syracuse on Wednesday.
Chris Mueller had a pair of goals plus an assist last night and enters Saturday's game with points in six straight. He leads the Marlies in scoring with 16 points (8G, 8A) on the season. Sam Gagner, who's second in scoring, picked up a pair of assists last night to improve his points total to 14 (6G, 8A) through 14 games.
Rookie Marian Studenic is leading the way for the Devils offensively with 11 points (7G, 4A) on the year while Nick Lappin has lit the lamp the most for Binghamton with eight goals and 10 points.
Special teams could be an important story tonight as Binghamton have struggled on both the power play (10.06%) and penalty kill (74.0%). The Marlies power play (20.0%) will look to take advantage of that while the penalty kill will look to improve on its 75.4% success rate.
Puck drop for tonight's game is scheduled for 7:00 and limited tickets are still available. Fans can catch all the action on Leafs Nation Network and AHLTV.
Follow us on Twitter and Instagram for updates and behind-the-scenes access from Coa-Cola Coliseum.
Head to Head (2018-19 Regular Season)

| | | |
| --- | --- | --- |
| | | |
| 5-6-1-2 | Overall Record | 7-7-2-0 |
| 0-1-0-0 | Head To Head | 1-0-0-0 |
| Loss 2 | Streak | Loss 1 |
| 61 | Goals For | 46 |
| 63 | Goals Against | 59 |
| 20.0% | Power Play Percentage | 10.6% |
| 75.0% | Penalty Kill Percentage | 75.4% |
| C. Mueller (8) | Leading Goal Scorer | N. Lappin (8) |
| C. Mueller (16) | Leading Points Scorer | M. Studenic (11) |
| J. Glass (3) | Wins Leader | M. Blackwood, C. Johnson, E. Lack (2) |