Marlies Battle Back to Earn Point in Belleville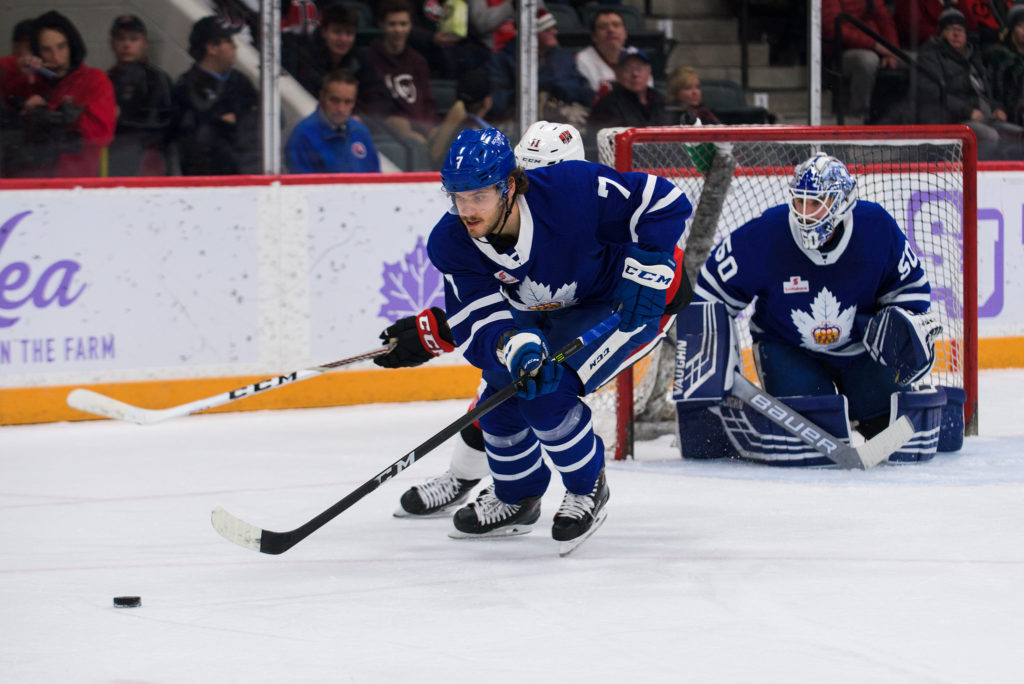 Game Notes
SCORING SUMMARY
Toronto: C. Mueller (7) (A. Borgman, J. Bracco), P. Engvall (4) (S. Gagner), R. Sandin (3) PP (J. Bracco, C. Mueller), C. Mueller (8) (S. Gagner, C. Rosen)
Goaltender: E. McAdam (22/27)
Belleville: J. Rodewald (5) PP (B. Sexton, P. Carey), L. Brown (1) (A. Tambellini, P. Carey), J. Murray (2) (S. Percy, J. Rodewald), C. Wolanin (3) (J. Rodewald, P. Carey), C. Wolanin (4) (C. Balisy, P. Carey)
Goaltender: F. Gustavsson (29/33)
ON THE SCORESHEET
Chris Mueller scored at 3:49 of the first period and tied the game in regulation at 19:45 of the third period. He also added the secondary assist on Sandin's power play goal in the third period. This is the sixth consecutive game Mueller has recorded a point (6 goals, 4 assists). Mueller leads the Marlies in points with 16 (8 goals, 8 assists).
Pierre Engvall scored at 15:46 of the second period. Engvall has 10 points (4 goals, 6 assists) in 12 games this season.
Rasmus Sandin scored on the power play at 14:16 of the third period. Sandin has five points (3 goals, 2 assists) in six games this season.
Andreas Borgman recorded the primary assist on Mueller's second period goal. This is the sixth consecutive game with Borgman recording a point (1 goal, 6 assists).
Jeremy Bracco registered the secondary assist on Mueller's second period goal and the primary assist on Sandin's third period power play goal. This is Bracco's fifth consecutive game recording an assist (7).
Sam Gagner had the lone assist on Engvall's second period goal and the primary assist on Mueller's goal in the third period. Gagner has 14 points (6 goals, 8 assists) in 14 games.
Calle Rosen recorded the secondary assist on Mueller's third period goal. Rosen has 12 points (1 goal, 11 assists) through 14 games this season.
Eamon McAdam stopped 22 of 27 shots he faced. McAdam is now 1-0-1-1 on the season with a .889 Save Percentage and a 3.07 Goals Against Average.
NOTABLES
Toronto went 4-for-5 on the penalty kill and 1-for-7 on the power play.
Toronto had a 33-27 edge in shots in all situations.
Pierre Engvall, Brady Ferguson, Sam Gagner, Chris Mueller, Rasmus Sandin and Dmytro Timashov led the Marlies with four shots on goal.
The Marlies are 4-6-1-2 against North Division opponents and are 1-1-1-0 against the Belleville Senators this season.
REGULAR SEASON LEADERS
Goals: C. Mueller (8)
Assists: C. Rosen (11)
Points: C. Mueller (16)
PPG: S. Gagner (3)
Shots: S. Gagner (49)
+/-: C. Rosen (+7)
PIMS: M. Marchment, D. Timashov (14)
POSTGAME QUOTES
HEAD COACH SHELDON KEEFE
On tonight's game:
We did fight back twice in the game which is great. I think we carried play for large chunks of time throughout the game which was very positive for us. The concerns are we continue to make big mistakes that end up costing us. I thought we had a really good goaltending performance today and we spoiled that by just making life really hard with the type of chances that we gave up as a result of either missed assignments without the puck or turnovers with it. That just creates a hole that's too big to dig your way out of. Special teams too. We get the late power play goal and that was a big help for us of course but power play's been struggling, penalty kill makes a mistake in the first period that has us trailing after one rather than being even or ahead as I thought we played a very good period. That penalty kill I thought was good. The penalty kill was much better today in many areas but then you make the mistake and it ends up in your net. We feel good that we were able to get a point out of this but we still continue to have a long way to go.
NEXT GAME:
November 17 vs Binghamton – 7:00 p.m. ET
November 18 vs Binghamton – 4:00 p.m. ET (Scotiabank Arena)
November 23 at Cleveland – 7:00 p.m. ET
November 25 vs Cleveland – 4:00 p.m. ET
November 28 at Cleveland – 7:00 p.m. ET
Game Preview
For the third time in a week, the Toronto Marlies (5-6-0-2) will face off against the Belleville Senators (7-8-0-0) in a Battle of Ontario matchup at CAA Arena.
The two sides split a pair of games last weekend, with the Marlies taking a decisive 8-2 victory on Saturday after dropping Friday's first game 7-6.
Friday's contest will mark the fifth straight game away from home for the Marlies, who hit the road for three weeks as the Royal Agricultural Winter Fair took over Coca-Cola Coliseum. The Marlies are 1-2-0-1 on the trip but have scored a whopping 22 goals over that span, representative of their high-octane offense that has scored 57 times on the season so far.
The Marlies have had a number of contributors to the offensive attack, including Chris Mueller (6G, 7A), Sam Gagner (6G, 6A), Carl Grundtrom (5G, 6A) and Calle Rosen (1G, 10A). Trevor Moore, who was the Marlies leading scorer, remains with the Maple Leafs (NHL).
Belleville bounced back from Saturday's final with a 3-2 shootout win over Utica on Wednesday and now sit fifth in the North Division.
One blow to Belleville will be the departure of Drake Batherson, their leading scorer who was recalled by Ottawa (NHL) earlier this week. Batherson had 20 points to start the season, including seven combined in the two games last weekend.
The focus will now be on Rudolfs Balcers (5G, 6A) and Adam Tambellini (6G, 4A) to pick up the slack for the Senators.
Puck drop is scheduled for 7:00 and all the action is available on AHLTV.
Follow us on Twitter and Instagram for updates and behind-the-scenes access from the CAA Arena.
Head to Head (2018-19 Regular Season)

| | | |
| --- | --- | --- |
| | | |
| 5-6-0-2 | Overall Record | 7-8-0-0 |
| 1-1-0-0 | Head To Head | 1-1-0-0 |
| Loss 1 | Streak | Win 1 |
| 57 | Goals For | 49 |
| 58 | Goals Against | 56 |
| 20.7% | Power Play Percentage | 23.4% |
| 75.0% | Penalty Kill Percentage | 73.7% |
| C. Mueller, S. Gagner (6) | Leading Goal Scorer | A. Tambellini (6) |
| C. Mueller (13) | Leading Points Scorer | R. Balcers (11) |
| J. Glass (3) | Wins Leader | M. McKenna, F. Gustavsson (3) |