Solid Team Effort in Game 4 Victory at Home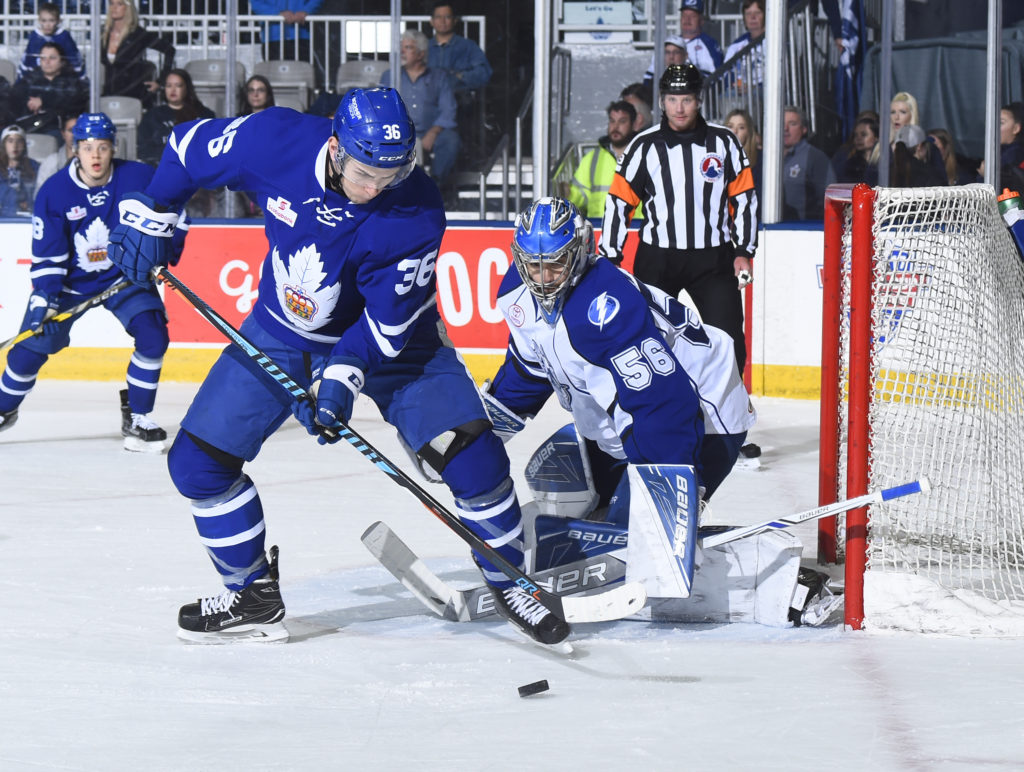 Photo: Graig Abel
SYRACUSE CRUNCH (2) AT TORONTO MARLIES (3)
WEDNESDAY, MAY 10 – NORTH DIVISION FINALS GAME 4
SCORING SUMMARY
Toronto: R. Clune (1) (K. Rychel), K. Rychel (2) (K. Kapanen), T. Moore (2) (C. O'Reilly, S. Griffith)
Goaltender: K. Kaskisuo 17/19
Syracuse: A. Erne (2) (unassisted), B. Thomas (1) (S. Koekkoek, G. Dumont)
Goaltender: M. McKenna 12/15, K. Gudlevskis 12/15
FROM THE SCORESHEET
·         Rich Clune put the Marlies on the board with his first of the postseason at 5:51 of the first period. Clune registered ten points (3 goals, 7 assists) through 37 games during the regular season.
·         Kerby Rychel scored a power play goal at 8:05 of the second period and registered the lone assist on Clune's goal earlier in the period. Rychel has five points (2 goals, 3 assists) through eight playoff games.
·         Trevor Moore collected his second goal of the postseason at 16:24 of the first period and now has three points through eight games.
·         Kasperi Kapanen extended his point streak (2 goals, 3 assists) to three games with an assist on Rychel's first period power play goal.  Kapanen is tied for the team lead in scoring with seven points (2 goals, 5 assists).
·         Cal O' Reilly picked up the primary assist on Trevor Moore's first period goal and has now recorded an assist in three consecutive games.
·         Seth Griffith picked up an assist tonight, extending his point streak to three games (1 goal, 4 assists).
·         Kasimir Kaskisuo stopped 17 of 19 shots for his fourth win of the postseason. Kaskisuo owns a 2.32 Goals Against Average and .902 Save Percentage.
NOTABLES
·         The Marlies hold a 53-45 all-time record in the postseason (29-21 at home).
·         Toronto went 2-for-2 on the penalty kill and 2-for-4 on the power play.
·         The Marlies had a 29-19 edge in shots in all situations and held the Crunch to just four shots in the second period.
·         Kerby Rychel led the team with four shots on goal.
MARLIES SCORING LEADERS
·         Points: Justin Holl (7), Kasperi Kapanen (7)
·         Goals: Andreas Johnsson (5)
·         Assists: Justin Holl (6)
·         Shots: Brendan Leipsic (24)
·         +/-: Travis Dermott (+6)
·         PIM: Andrew Nielsen (20)
POSTGAME QUOTES
"we knew we had to bring a better defensive effort and I think that was kind of our main focus with our couple of days there. I think we got a little bit of it yesterday and then obviously to come out today to get a lead early, to be able to change our game and to be able to shut them down like that I think it was important, I think that was a good lesson for our team. We got a lot of late goals yesterday, but to find out how to win a one goal game there late in the end, especially a talented team like that that obviously made their pushes throughout the game."
–          Steve Oleksy, Marlies Defenceman
"We were able to get a really good first period, to finally give ourselves a real lead in a game in the series. We haven't really led at all since early goings of game one, so that was nice to have. I thought we had a good second half to the second period. The first half of the second period I didn't like. I thought they got a whole lot better. We got it back, they had some chances there but we couldn't get one in, not nearly enough around the net so makes the game closer than we would have liked it to have been, but to see our guys stay with it and grind it out there at the end is a good sign for our team and we're certainly happy to get things all square here."
–          Sheldon Keefe, Marlies Head Coach
NORTH DIVISON FINALS SUMMARY
GAME ONE – MAY 5, 2017: Toronto 1 at Syracuse 3
GAME SUMMARY         |           GAME SHEET
Toronto Goals: Johnsson
Syracuse Goals: Condra, Froese, Gourde
TOR PP: 0/4 SYR PP: 1/5 Shots: 29-25 SYR
GAME TWO – MAY 6, 2017: Toronto 5 at Syracuse 8
GAME SUMMARY         |           GAME SHEET
Toronto Goals: Johnsson, O'Reilly, Kapanen, Grundström, Griffith
Syracuse Goals: Conacher (2), Bournival, Peca (2), McGinn, Vermin (2)
TOR PP: 3/7 SYR PP: 1/8 Shots:  36-19 SYR
GAME THREE – MAY 9, 2017: Toronto 5 at Syracuse 3
GAME SUMMARY         |           GAME SHEET
Toronto Goals: Johnsson (2), Leipsic, Grundstrom, Kapanen
Syracuse Goals: Erne, Froese, Condra
TOR PP: 1/3 SYR PP: 1/1 Shots:  34-25 TOR
NORTH DIVISION FINALS SCHEDULE
Game Five: Saturday, May 13 at Syracuse – 7:00 p.m. ET
Game Six: Monday, May 15 vs Syracuse – 7:00 p.m. ET
Game Seven: Wednesday May 17 at Syracuse – 7:00 p.m. ET
---
Game Preview
Following a thrilling comeback in Game 3 on Tuesday night, the Marlies are right back to work less than 24 hours later as they face off against the Crunch again on Wednesday.
Brendan Leipsic, Carl Grundstrom and Kasperi Kapanen scored over a span of 33 seconds in Game 3, closing the gap on Syracuse's series lead. The Marlies now have a chance to even the series at home on Wednesday night before heading back on the road for Game 5.
Andreas Johnsson scored twice in last night's game, and he now leads the Marlies with four goals during the playoffs. Johnsson also finished as the team leader in goals during the regular season with 20.
Grundstrom's game winning goal last night was his second in two games since joining the Marlies. He also had an assist in Game 2 on Saturday and has three points in the series.
Kapanen enters tonight's game coming off of a three-point performance in the victory on Tuesday. He's averaging over a point-per-game with six points through five games in the Calder Cup Playoffs.
Puck drop for tonight's game is 7:00 on Leafs TV and AHL Live. Join the conversation online by following the Marlies on Twitter and tuning in to our #MarliesLive chat.
Tickets for tonight's game are still available. Visit online or call 416-597-PUCK (7825) to get yours.